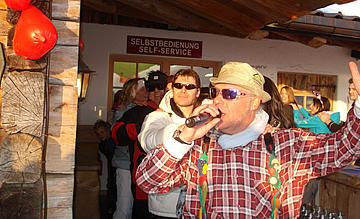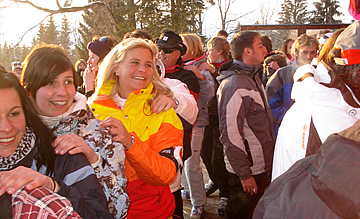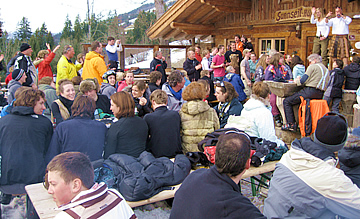 The Sunnseit Hut is known for cosy après-ski party atmosphere and flirt with spirits - to forget about everyday life really.
A real hot spot - with a wink - for dashing ski bunnies, smart piste macho men and tanned ski instructors… in any case for all those who like swaying omitted, easy, relaxed sing along and simply be happy.
Après-Ski DJ "Jester Luigi" not only provides cool rhythms and hot dancing interludes, but also is determined for lots of gags and laughs. Luigi's Bolognese specialty is - no, no spaghetti - in dance, because he brings all to a boil. And anyone who joins can flourish to the service stations to refresh themselves.
If by great curves, fast straights and relaxed sliders is the speech, winter sports enthusiasts surely rave of pleasures on the sled. Happy to join with a toboggan! A cosy retreat nothing stands in the way, the Sunnseit hut is situated at the start of the illuminated toboggan run.
But the Sunnseit hut can do even more!
• Alfred, Helmut and team serve good food & drinks by a small, fine card
• comfortable and above all, having fun, you can sit here together and celebrate festivals of all kinds
But tell that much, just come and enjoy the fun to the fullest.
Sunnseit - Fun
More Pleasure and Entertainment